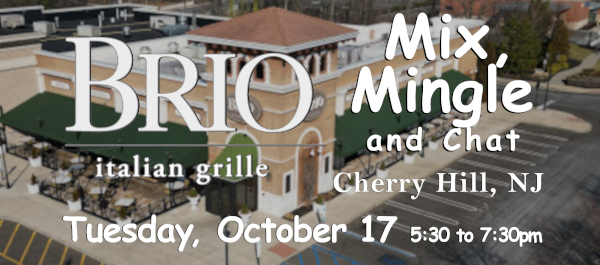 Special offer details and sign up / ticket buttons below.
Tuesday, October 17
Mix, Mingle and Chat
5:30 to 7:30pm

~
Brio Italian Grille

901 Haddonfield Road
Cherry Hill, NJ, 08002

.
You are invited! Join Ralph and Sarah, your hosts and 40 guests from PBSN and 4 Meetups at this popular South Jersey eatery.

5:30pm doors open. Socialize with friends, and join us in welcoming many new participants here and at each of our growing gatherings.

Everyone is invited and encouraged to circulate and chat. YES, get to know people better whom you have met before and draw new participants into the group.

This venue is a Tuscan-inspired destination serving authentic northern Italian cuisine, luxury wines & cocktails. Gather with friends to experience the flavors of Italy without leaving the country. Happy Hour menu until 6:45pm.

Business Casual. Appetizers, Dinner and Desserts additional; Cash bar.

Tonight's event is sponsored by Professional and Business Social Network (PBSN) and our affiliate Meetup groups. We're expecting an awesome event, and we can't wait to see you there!

.
A D M I S S I O N :
$20 at the door.
OR
$15 special offer with sign up. Click blue button below:

OR
Buy Tickets: Click green button below:

.
W H O _ W I L L _ B E _ T H E R E :
Please join us if you have a sense of humor, a generous spirit, and an overall positive attitude. Attendance may not be gender balanced.
.
T E R M S _ A N D _ C O N D I T I O N S
.
C O N T A C T _ U S :
610-348-5544 ~ PBSNgatherings@aol.com ~ www.PBSNinfo.com
Professional and Business Singles Network, Ltd. PBSN

---