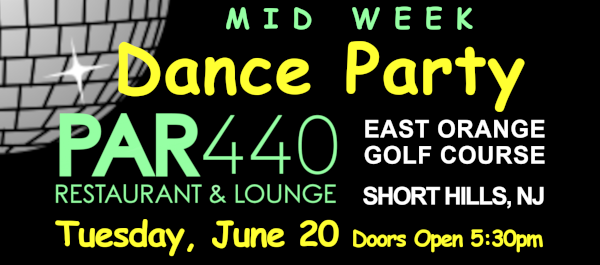 Special offer details and reservation / ticket buttons below.
Tuesday, June 20
M I D W E E K
Mix and

Mingle

5:30pm
Dance Party

Music by DJ Ray

6:00pm
~
Par 440
East Orange Golf Course
440 Parsonage Hill Road, Short Hills, NJ, 07078
.
You are invited! Join Ralph, your host and 81 Dancers and Socializers from PBSN and 5 Meetups. You will experience a touch of class in the relaxed and casual atmosphere of this recently rebuilt Clubhouse at East Orange Golf Course.
Doors open 5:30 PM Mix and Mingle.
At 6:00 PM DJ Ray gens up the sound for 3 hours of non-stop dancing. Expect to hear your favorite Disco and Classic Dance Songs. DJ Ray will be taking requests from all eras, too.
Business Casual attire. Appetizers, Dinner and Deserts additional; Cash bar.
New faces welcome! This evenings event is sponsored by Professional and Business Social Network (PBSN) and several Meetup groups. We expect a fabulous crowd...
.
W H O _ W I L L _ B E _ T H E R E :
Please join us if you have a sense of humor, a generous spirit, and an overall positive attitude. Attendance may not be gender balanced.
.
A D M I S S I O N :
$20 at the door.
OR
$15 special offer with reservation. Click blue button below:

OR
Buy Tickets: Click green button below:

.
T E R M S _ A N D _ C O N D I T I O N S
.
C O N T A C T _ U S :
610-348-5544 ~ PBSNgatherings@aol.com ~ www.PBSNinfo.com
Professional and Business Singles Network, Ltd. PBSN

---