PBSNinfo.com
<--- click link for more events 5
~
You and your friends are invited
~
S A T U R D A Y
November 30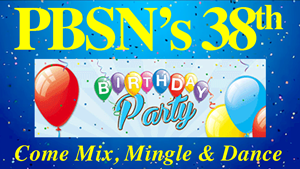 A Premier Venue

Dance Party
&
Social
East Coast Swing Instruction
(optional)
Meet
and
Greet
~
Middlesex County
Forsgate Country Club
click the location name above for directions
375 Forsgate Drive, Monroe Twp., NJ 08831
Just off NJ Turnpike, exit 8A. Jamesburg
~
THE EVENT
~

East Coast Swing
Instruction
(optional)
Registration
6:45pm
Instruction
7:00pm - 8:00pm
by
Elena
A great ice breaker
No partner needed. Tonight's class is for Beginner and Intermediate level dancers. Accomplished dancers are always welcome to polish their skills. Just drop in.
~
Meet
and
Greet
7:30pm

PBSN's 38th Birthday

Dance Party & Social

8:00pm to Midnight
Highlands Grand Ballroom
Spacious Dance Floor
Invite your friends for an evening to "Mix, Mingle and Dance." PBSN's DJ will be taking requests and spinning your favorite dance songs ... Music you will love ... fast and slow songs you'll recognize!
~
Introduce a friend tonight. Cash bar.
~
Groups, Individuals, Couples, Friends, Guests and Walk-ins are always welcome.
A reservation is appreciated but not required.
~
DRESS TO IMPRESS
Gents: sharp attire, jacket and tie optional;
Ladies; wear your dancing best.
No jeans, No sneakers
~
COST:
$
20
admission at the door.
...OR...
$18 at the door with Google Form RSVP, limited time offer (no credit card required)
Click Link above
...OR...
purchase of tickets thru Eventbrite
<--- Click here
~
All Admission fees tonight include attending optional Instruction, Meet & Greet, and Dance.
~
QUESTIONS:
Ralph 1-610-348-5544
PBSNinfo.com
click link above for more events